Master-Servant Contract Magic (主従契約魔法 Shūjū Keiyaku Mahō) is a spell used by Maria, Shella, and Chisato.
Description
Purpose
The spell aims to form a master-servant contract which unites two people, making the two aware of each other's locations.[1] However, that's only a side effect of the spell, as the real purpose of the spell is to maintain the subordinate's loyalty,[2] and disobedience would cause an effect.[3]
Activation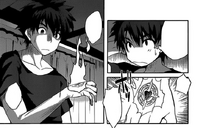 It was stated by Maria that in a full moon, this Magic can be used[4] and it can also negate the contract as well.[5] Upon activation, a large circle with a star inside of it, decorated with ornate designs will appear.[4] The one who will take the role of the "master" will chant a spell, and a Magic circle would come out of the chanter's hand, while the other one, who takes the role of the "slave" (subordinate) has to perform the "kiss of devotion" on the said circle, and that would establish the contract.[6]
Effect
Should the subordinate rebels or shows any kind of disobedience, a curse would activate, manifesting a retainer-mark, and it would appear on the neck of the subordinate,[7] the effect tends to vary depending upon the magic used in the contract, for example the quite popular succubus magic materializes as an aphrodisiac that increases the subordinate's sexual desires.[8] Once the subordinate is under the curse, the master has to make his subordinate "submit" by touching his subordinate's body and make her submit to the master.[9] Another effect of the contract is that it increases the power of both the servant and the master as the servant's loyalty grows.
Contractees
References